Website Training to
Help You Grow Your Business
We are pleased to present a series of FREE small business website training sessions for small business owners and entrepreneurs.
In-person & virtual classes will be held through May 2022.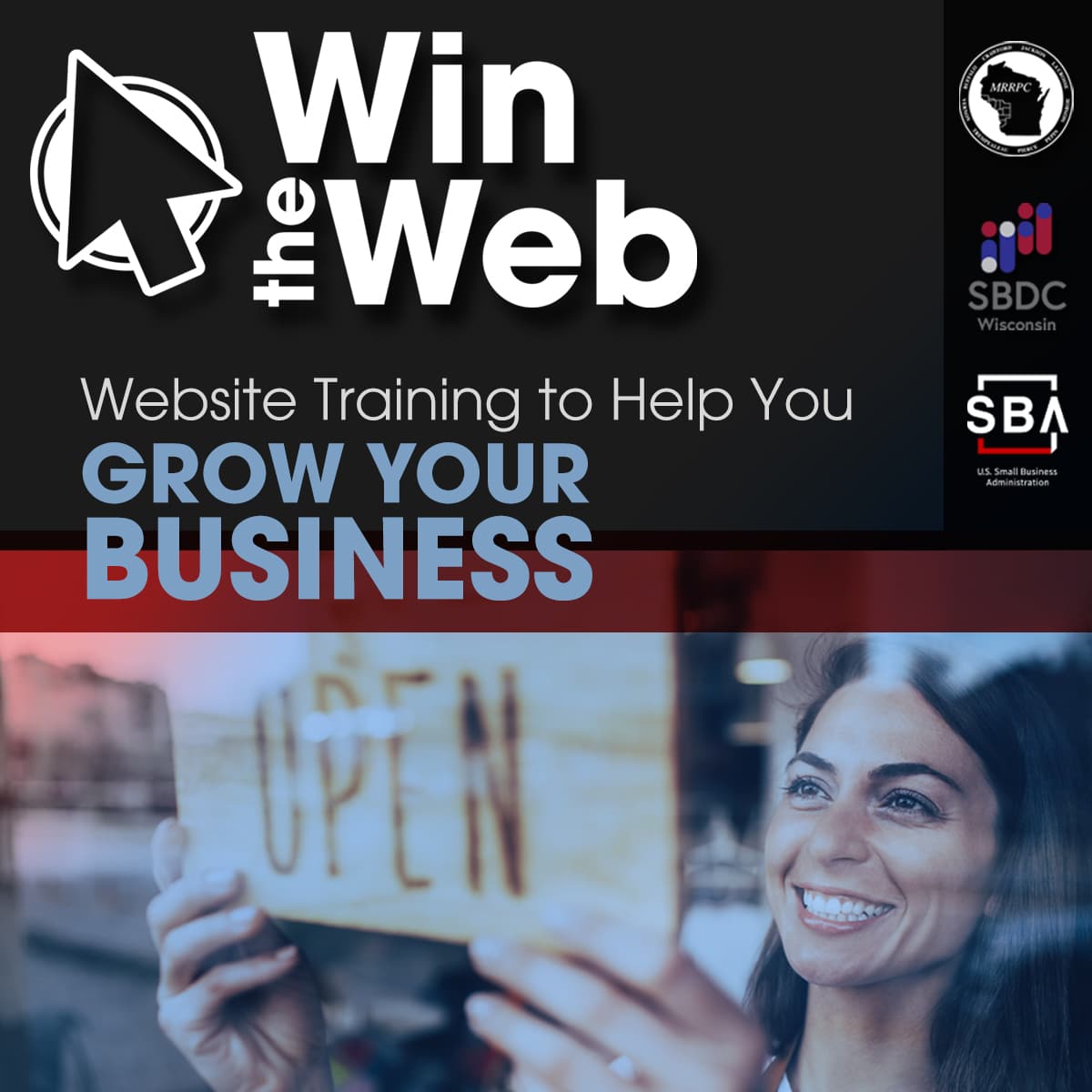 Websites 101: Building a Website
Tue. May 10, 2022
4:30 PM - 6:00 PM
Durand City Hall
Council Chambers
104 E Main St
Durand, WI 54736
View Directions
or
online via ZOOM
---
Tue. May 24, 2022
4:30 PM - 6:00 PM
Jackson County Courthouse
County Board Room
307 Main St
Black River Falls, WI 54615
View Directions
or
online via ZOOM
If you've made the decision to build a website for your business but you don't know where to start, these sessions are for you. We'll cover key considerations as you plan your business website.
Join us to learn:
Do you need a website, or can you just use a Facebook Page?
How much will it cost?
How to register a domain name
Choosing a platform (Wix, SquareSpace, WordPress, Shopify…)
Developing your site architecture and navigation
Choosing a design
Creating your content
Introduction to Search Engine Optimization (SEO)
Wed. May 11, 2022
4:30 PM - 6:00 PM
Buffalo County Courthouse
2nd Floor Conference Room
407 S 2nd St
Alma, WI 54610
View Directions
or
online via ZOOM
---
Tue. May 31, 2022
4:30 PM - 6:00 PM

Monroe County Courthouse
Assembly Room
112 S Court St, Sparta, WI 54656
View Directions
or
online via ZOOM
If you are planning a business website, or want to improve the rankings of your existing business website so it gets more visitors, join us for an overview of SEO and beginner-level tips for implementing search engine optimization tactics in your website.
Join us to learn:
How the search engines work
What is Search Engine Optimization?
Key elements of Search Engine Optimization
Actions you can take to improve your site's SEO
Additional resources
WORKSHOP: Managing Your WordPress Website
Mon. May 9, 2022
5:00 PM - 7:00 PM
online via ZOOM
If you have a wordpress.org website, join us to learn more about how to manage and maintain it, from adding content to choosing plugins and keeping it updated and secure.
Logging in, users, and roles
Adding a page
Adding images, links, and documents
Working with plugins (and how to choose good ones)
WordPress maintenance
Provided By:
The Mississippi River Regional Planning Commission (MRRPC), in collaboration with the Wisconsin Small Business Development Center (SBDC) at UW-La Crosse.
Additional support provided by the Economic Development Agencies and Chambers of Commerce supporting Buffalo, Crawford, Jackson, La Crosse, Monroe, Pepin, Pierce, Trempealeau, and Vernon Counties.
Funding for these educational sessions has been provided by the U.S. Economic Development Administration.